The Next Horizon
Technology is changing faster than ever. If you're not ready, it can catch you off guard. Join Bill Pfeifer as he chats with key innovators at Dell Technologies to unravel emerging developments in tech.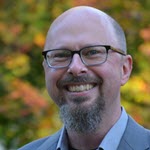 Next Horizon host:
Bill Pfeifer
Next Horizon host: Bill Pfeifer
Bill has been all over the industry for the past 20 years, where he's installed, sold, trained, strategized and marketed seemingly all things tech. Today, he creates messaging for Dell Technologies. He helps the company stay ahead of the emerging tech landscape, striving to ensure everyone is ready and excited for what's to come.
The Next Horizon
1.4 — Ibex with Joseph Mossel
When it comes to your health, nothing matters more than an accurate diagnosis. In this episode, Bill talks with Joseph Mossel, the CEO and co-founder of Ibex Medical Analytics, to learn more about the role that artificial intelligence plays in their pathology labs.
The Next Horizon
1.3 — Connected Mobility with Stephen Davidson
Connected mobility is a new piece of digital transformation. Learn how Dell Technologies is working directly with the automotive industry to help realize this transformation, and what that means for you and the future of transportation.
The Next Horizon
1.2 — Key Emerging IT Technologies with David Frattura
In this episode, Bill sits down with David Frattura to discuss the drivers of digital transformation and the current, underlying themes in emerging technology.
The Next Horizon
1.1 — Transforming Data Management with John Roese
Technology is shifting to a decentralized model – We'll talk about what you need to know today, including how data management is transforming and how distributed IT infrastructures is paving the way for a multi-cloud environment.