AI: Hype vs. Reality
Artificial intelligence (AI) carries a lot of promise to enhance human lives. It also carries a lot of hype. Join host Jessica Chobot as she puts present-day AI technology to the test and separates the hype from reality.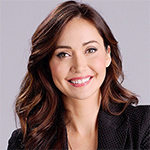 AI Hype vs. Reality host:
Jessica Chobot
AI Hype vs. Reality host: Jessica Chobot
Jessica Chobot currently serves as host for Nerdist News, Nerdist News Talks Back and Nerdist News: WTFridays on Nerdist.com. She is also the host of ESL's Player vs Player on Hulu and host/creator of the Bizarre States podcast.
AI: Hype vs. Reality
1.6 – AI Has Eyes: Computer Vision
Can a fake mustache fool facial recognition technology? How is computer vision being used? Can we really be tracked everywhere we go? Jessica Chobot dissects the hype in the season finale.
AI: Hype vs. Reality
1.5 – Artificial Instincts: Playing Poker
Jessica Chobot has never played poker. Yet what better way to test AI's capacity for human intuition? Will she win at Texas Hold 'Em? Or will she have to fold them? Let's shuffle up and deal.
AI: Hype vs. Reality
1.4 – Doctor AI: Medical Exam
Host Jessica Chobot thinks she's healthy. But will her check-in with AI give her a clean bill? The doctor is in on this episode of HvR.
AI: Hype vs. Reality
1.3 – AI for Creativity: Comedy Writing
Jessica Chobot gets greenlit for a sitcom. All she has to do is … act out lines written with AI in front of a live audience. Will she get laughs? Or will she need to be saved by a laugh track? Find out!
AI: Hype vs. Reality
1.2 – AI On The Job: Robot Co-Workers
Jessica Chobot takes command of a robot tasked with sorting and fulfilling online orders in search of the truth – will AI really replace us all? Find out if robots are up for the job or just a task.
AI: Hype vs. Reality
1.1 – AI That Drives: Self-Driving Cars
Host Jessica Chobot gets behind the self-driving wheel of an autonomous car in the premiere of the new podcast AI: Hype vs. Reality.