AI: Hype vs. Reality
Artificial intelligence (AI) carries a lot of promise to enhance human lives. It also carries a lot of hype. Join host Jessica Chobot as she puts present-day AI technology to the test and separates the hype from reality.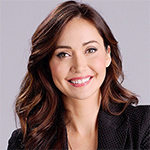 AI Hype vs. Reality host:
Jessica Chobot
AI Hype vs. Reality host: Jessica Chobot
Jessica Chobot currently serves as host for Nerdist News, Nerdist News Talks Back and Nerdist News: WTFridays on Nerdist.com. She is also the host of ESL's Player vs Player on Hulu and host/creator of the Bizarre States podcast.
AI: Hype vs. Reality
1.2 – AI On The Job: Robot Co-Workers
Duration 20:20
Jessica Chobot takes command of a robot tasked with sorting and fulfilling online orders in search of the truth – will AI really replace us all? Find out if robots are up for the job or just a task.
AI: Hype vs. Reality
1.1 – AI That Drives: Self-Driving Cars
Duration 22:21
Host Jessica Chobot gets behind the self-driving wheel of an autonomous car in the premiere of the new podcast AI: Hype vs. Reality.