AI: Hype vs. Reality
Artificial intelligence (AI) carries a lot of promise to enhance human lives. It also carries a lot of hype. Join host Jessica Chobot as she puts present-day AI technology to the test and separates the hype from reality.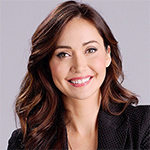 AI Hype vs. Reality host:
Jessica Chobot
AI Hype vs. Reality host: Jessica Chobot
Jessica Chobot currently serves as host for Nerdist News, Nerdist News Talks Back and Nerdist News: WTFridays on Nerdist.com. She is also the host of ESL's Player vs Player on Hulu and host/creator of the Bizarre States podcast.
Select the topics that interest you