View Your Personalized Recommendations Below
To realize true IT Transformation, organizations must modernize their infrastructure, automate IT services and transform IT operations. Dell EMC leads the industry offering an unmatched portfolio of converged infrastructure and hyper-converged infrastructure systems, trusted by thousands of businesses around the globe to power their IT initiatives.
Dell EMC converged and hyper-converged infrastructure is built on pillars of the modern data center: flash, cloud-enabled, scale-out, and software-defined technologies and is capable of delivering across all workloads for maximum performance and time to value. By leveraging these simplified and turnkey platforms, your organization will benefit from predictable outcomes that deliver:
Dramatically improved time to value of new IT services
Optimized data center operations to drive new models of efficiency
Increased speed of business and enablement of innovation through technology
Whether you're a technology subject matter expert or an IT leader, you know that operating as a strategic partner to the business, communicating the value of IT, and delivering IT-as-a-Service are paramount to your success. Dell EMC converged and hyper-converged infrastructure can help you lower costs, improve IT efficiency and break down silos throughout your organization.
Product Recommendation
Our recommendation for you:
Dell EMC VxRack, VxRail, and XC Systems
Since your data center environment is a core data center focused on both traditional and modern workloads, as well as emerging and cloud-native applications, a rack scale system brings the same benefits as a hyper-converged appliance but on a larger scale. Core data centers are a perfect choice because they can scale more efficiently than appliances. Hyper-converged, software defined rack-scale systems can meet the diverse needs of both traditional and modern workloads and are ideal for emerging and cloud-native applications. Consider Dell EMC VxRack System 1000 FLEX and SDDC models.
If you have a need to grow incrementally, you may also benefit from hyper-converged appliances. With Dell EMC VxRail, you can easily support any new application and service requirement — running from 40-200 VMs on a single appliance with the ability to scale up to 3,200 VMs on 16 appliances. VxRail's seamless integration with VMware lets you leverage existing VMware investments, processes, and tools. The Dell EMC XC Series appliance allows you to quickly deploy any virtualized workload in Microsoft Hyper-V or KVM environments. XC Series provides non-disruptive scale-out performance and is ideal for VDI, test / dev, databases, and cloud.
Cloud Computing Journey
Since you have indicated that cloud computing is a top priority and you have a mature cloud model, you understand the cloud computing journey is a requirement for IT transformation. As you are aware, this shift is driven by many factors you should be in the midst of addressing, such as:
Replacing aging infrastructure that has reliability issues and requires very high cost and effort to run.
Simplifying overall infrastructure complexity and adopting greater virtualization.
Supporting business efforts to reduce time-to-market and increase innovation.
Deploying additional capacity in near real time to support business growth and launch new services/products.
Infrastructure Procurement & Deployment
You indicated that converged and/or hyper-converged infrastructure systems are currently procured and deployed, with multiple applications and workloads managed on single systems. Dell EMC refers to this category as "Engineered Systems," which includes converged and hyper-converged infrastructure solutions. These solutions are engineered, manufactured, managed, supported, and sustained as a single product. Engineered systems help make the adoption of new technologies that drive digital transformation — such as flash and software-defined infrastructure — faster, simpler, more agile, more efficient, less risky, and less costly.
Competitive Differentiation
You indicated you are using or considering HPE to host and manage your applications and workloads. HPE offers limited-scale integrated solutions with core-feature characteristics for every market category: converged, hyper-converged, and even a partial implementation of Composable Infrastructure. HPE's OneView management framework is their ubiquitous approach to differentiation, playing a primary role in every category and almost every product. In addition to packaged solutions, HPE also provides reference architecture examples and "CloudSystem" software mechanisms to unify diverse environments spanning public and hybrid cloud deployments. HPE's limited scale might appear to be caused by obsolete architectures, but even its recent investments, such as SimpliVity, are unable to match Dell EMC in the scale-up or scale-out capabilities of blocks, racks, and appliances.
You indicated you are using or considering AWS to host and manage your applications and workloads. While AWS offers a broad range of PaaS and IaaS, and provides a popular environment for app developers, the highly proprietary nature of tools and software services unique to AWS lead to lock-in, trapping customers who become dependent on AWS-specific support methodologies. Dell EMC enables customers to build agile, scalable and flexible private or hybrid cloud services while supporting multi-cloud development and reusing existing, proven best practices. According to a February 2017 Evaluator Group Economic Insight Paper, VxRail Appliances provide enterprise performance and ease of manageability with half the total cost of ownership when compared to Amazon Web Services. Source: Evaluator Group, "The Cost of Using the Public Cloud, An Evaluator Group TCO Analysis Comparing AWS and VxRail commissioned by Dell EMC," February 2017. Note: TCO calculation is based on a 3-year prepaid option.
You indicated you are using or considering Nutanix to host and manage your applications and workloads. Nutanix is positioned as single scale-out cluster "full-stack infrastructure and platform services" product family for all use cases and workloads. One strength Nutanix has compared to other hyper-converged offerings, is that they support multiple hypervisors such as Hyper-V, KVM, and Xen — in addition to VMware. And it has designed its own "Prism" management framework around its own variation on KVM, named "Acropolis." Dell EMC VxRail offers:
Storage Policy Based Management (SPBM) to leverage investment in existing VMware tools and training
VSAN integrated into the kernel of VMware, offering lower overhead and better performance than a Virtual Storage Appliance (VSA) architecture
For Hyper-V, KVM, or Xen based solutions, Dell EMC XC Series hyper-converged appliances are powered by Nutanix software and provide a flexible and innovative solution. Dell EMC XC series is built upon proven hardware solutions and blueprints that incorporate Microsoft technologies and discrete solutions, such as ScaleIO Software Defined Storage, optimized across a wide range of operating environments to deliver industry leading performance and scalability.
IT Objective
You chose mitigate risk as a primary IT objective, so you are aware that unplanned downtime costs companies hundreds of millions of dollars every year. In addition, security threats are becoming more pervasive with over 1 million cyber-attacks released every day! Source: CNN, "IT must protect its information and make it highly available."
Business Objective
You chose efficiency as your primary business objective. From data center power and cooling costs to server utilization and resource allotment, your business needs maximum efficiency from IT to meet budgets and stay competitive. You understand that new models of deploying, managing, and scaling technology are needed to get the most value from your spend and ensure your organization is positioned to meet the challenges of the future.
Operational Priorities
You indicated an operational priority is to spend less time on break/fix tasks. Dell EMC converged infrastructure is pre-tested and pre-validated, drastically reducing the amount of hardware issues impacting your business. If issues do arise, Dell EMC converged infrastructure is backed by one-call support, saving you time and money.
You indicated an operational priority is to reduce the time and risk of system software upgrades. Dell EMC's pre-tested Release Certification Matrix (RCM) process takes the risk out of burdensome and time consuming update tasks, enabling your organization to focus on activities that positively impact the business.
You indicated an operational priority is to reduce the time and complexity of adding storage and compute resources. With options that include Converged Technology Extensions, Dell EMC's full portfolio of standardized components are pre-engineered to seamlessly scale compute and storage to meet dynamic demands.
Webinar: Converged Platforms & Solutions Portfolio Overview
View this webinar for a brief overview of the Dell EMC converged and hyper-converged infrastructure portfolio and value proposition.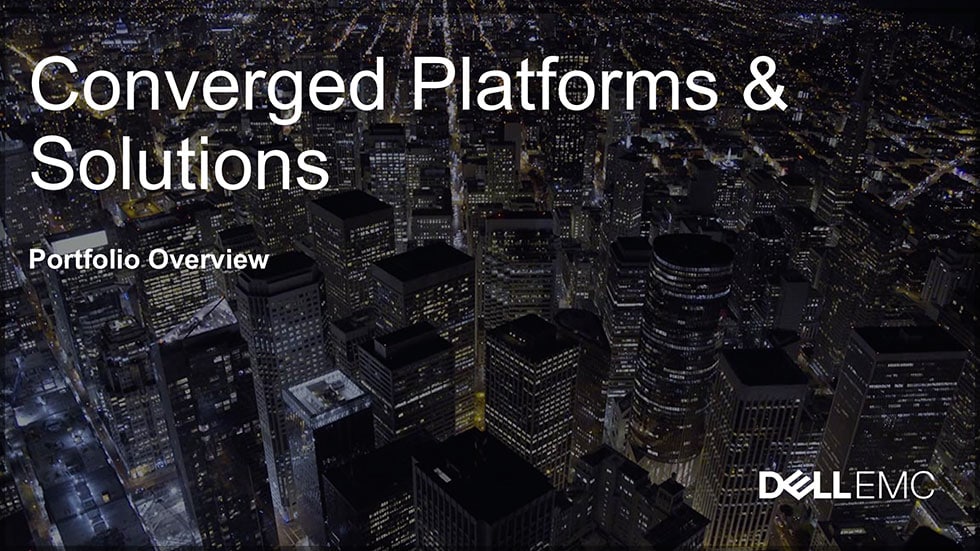 Still want more? Read 5 reasons to choose hyper-converged infrastructure from the Edison Group.
5 Reasons to Choose Hyper-Converged Infrastructure