IsilonSD Edge


CONNECT TO THE DATA LAKE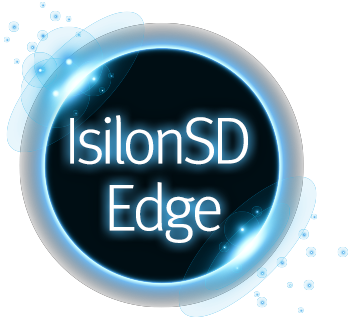 EMC IsilonSD Edge combines the efficiency and flexibility of software-defined storage with the power of EMC Isilon scale-out NAS. Extend your data lake to the enterprise edge.
IsilonSD Edge extends the data lake to enterprise edge locations including remote and branch offices, allowing you to consolidate, simplify management, and protect unstructured data used to support a wide range of workloads.
Data consolidation
Expand your data lake by consolidating data from edge locations to your core data center. Leverage multi-protocol capabilities to support a wide range of 2nd and 3rd platform applications including big data analytics to gain more value from enterprise edge data.
Simple management
Simplify data and storage management at the edge with familiar software tools and the automated features of the Isilon OneFS operating system.
Increased efficiency
Leverage commercial off-the-shelf hardware and your virtual server environment at edge locations to deploy an economical software-defined storage solution with the power of Isilon OneFS. Increase efficiency and storage utilization at the edge to over 80% by aggregating unused storage capacity.
Enterprise data protection
Increase data protection at the edge by automatically replicating data to your core data center. Eliminate the need for manual data backup processes and protect data consistently at all of your edge locations.